We deliver the insights, inspiration & connections needed to help eradicate disease & make healthcare delightful.
Proud to work with leaders in health and life sciences
Senior members of the Healthskouts team are involved as advisors and board members in the following industry bodies.
Healthskouts Capabilities
We're analysts with a strong creative bent, driven by the belief that healthcare can be delightful and that disease can be eradicated.
Healthskouts Insights & Solution Libraries
We are constantly scouting for – and being inspired by – new products, technologies, studies and care models that have the potential to transform healthcare and bring delight in the patient journey.  We're happy to share our insights and curated solution libraries with you! Subscribe to our newsletter and you'll never miss a thing.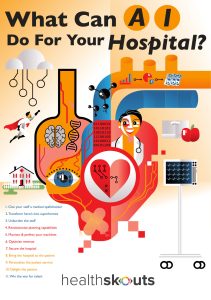 hospitals
What can AI do for your hospital? A lot, that's the answer in brief.
Read More »
Subscribe to the most delightful newsletter in life sciences and be inspired every 2 weeks.
You'll find our way of working refreshing. We like nothing better than surprising our customers with unexpected insights and inspirations, while simultaneously delivering actionable solutions to the challenge at hand. Read more about services here.